Many top restaurants in Helsinki are closed during the whole month of July,
some for even longer. If you are planning a "foodie vacation" in Helsinki during
the summer, July is probably not the best time to do it. July, which usually is
the warmest summer month, is "vacation month" in Finland. Most Finns start
their vacation around the 21st-24th of June, when "Midsummer Eve", a huge
holiday in Finland, is celebrated. Check in advance.
RESTAURANT SAVOY
Our revisit to this old, and very expensive, establishment years overdue, but a happy one. Savoy has been known as a quality eatery since it opened in 1937. Many top Finnish chefs have worked their magic in its kitchen over the years. The decor was designed by, among others, Alvar Aalto, the famous Finnish architect. (See "history" on the Savoy home page.)
While I appreciate the genuine historic interior, for me the charm of Savoy is sitting on the summer terrace, overlooking the Esplanade Park, over its treetops and toward the beautiful, newly restored buildings along the Northern Esplanade and the beautiful glistening white Dome a little further away.
The service was professional and friendly and much less self important than it had been years ago when we dined there last. The food is world class. The nice house champagne, Gosset, set the mood. The amuse bouche just melted in our mouths.
Our appetizer, a langoustine ravioli with lobster and vegetable ragoût absolutely delicious. Our friend also enjoyed hers, a beef carpaccio.
For our main courses my husband and our friend had grilled sea trout, sauté of new potatoes and chanterelles, smoked roe and sauce Rémoulade . They loved it.
The restaurant was very accommodating about substituting some ingredients. They were more than happy to let me have the before mentioned main course with fried fillets of Finnish perch (which I love in the summer - and cannot get in New York, sigh!) instead of the grilled sea trout. Delicious.
The Tahiti vanilla soufflé, marbled cherry ice-cream and compote of cherries flavored with hops, was good but not exciting. With the food we shared a bottle of Volnay, 1989, Camille Giroud.
Address: Eteläesplanadi 14, 00130 Helsinki
Phone: (358)- (0)9 - 6128 5300

RESTAURANT SAVOY, summer 2010. Click to enlarge.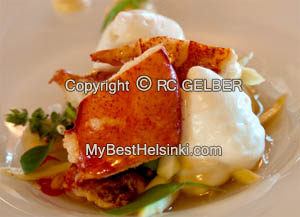 Delicious lobster at RESTAURANT SAVOY, summer 2010. Joyous re-visit: We found delicious food and very friendly & professional service. Cannot wait to go back to Savoy.
The best herring plate I have had, ever. Enjoyed at RESTAURANT SAVOY, summer 2010.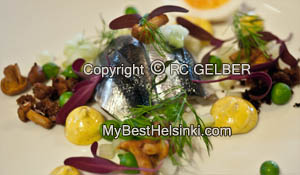 I would go back just for this. Click to enlarge.
RESTAURANT GROTESK
From the owners of Demo, a new, casual restaurant serving simple but delicious food.

Chefs/owners: Tommi Tuominen & Teemu Aura Grotesk received a Bib Gourmand mention in the 2010 Michelin Guide.

Address: Ludviginkatu 8-10, 00130 Helsinki
Phone: (358)- (0)9 10 470 2100
Email: myyntipalvelu at grotesk.fi
NY Times review of Grotesk.

Helsingin Sanomat review (the "NY Times of Helsinki") of Grotesk
RESTAURANT LUOMO
This restaurant is startedg with a gloriously sounding bang: it received one star in the 2010 Michelin Guide. It has kept its star, the latest one received in 2013.
The locals already knew the restaurant is good; it is pretty much packed night after night.
Luomo uses ingredients both from "local, small producers and from high end global producers" and describes the cooking "innovative, modern; based on classic gastronomy".

Beautiful, small, fresh and creative dishes.

Chef owners:Jouni Toivanen & Mika Mattila
(formerly, Chez Dominique).

Address: Katariinankatu 1, 00170 Helsinki
Phone:(358)- (0)9- 135 7287
Email: info@luomo.fi
Online reservations
Driving instructions & contact info
RESTAURANT DEMO
is an ambitious, small place and was popular tvery popular from the start, in 2003. We have been told that the food is very good, fresh and, for the quality and level of cooking, very reasonably priced. Reservations highly recommended weeks in advance. The menu changes daily. We hear Demo offers the best "bang for the buck" in quality food Helsinki right now.
Demo recieved one Michelin star - again - in 2013.
Chef Owners: Tommi Tuominen & Teemu Aura, who opened the more casual restaurant Grotesk in Nov. 2007.

Phone: (358)- (0)9 2289 0840
Address: Uudenmaankatu 9-11, 00120 Helsinki
Email: demo at restaurantdemo.fi

Located in the beautiful, historic Ullanlinna neighborhood, Chef & Sommelier has been a hit from the start, for good reason. Their focus is on food made from scratch, with fresh, local & organic ingredients and terrific service, where also the chefs serve the food. There is a good vibe here. Fully vegetarian dishes available with advance notice.

Even the Finnish Gastronomic Society took notice and named Chef & Sommelier the restaurant of 2013.

Address: Huvilakatu 28, 00150 Helsinki
Phone: (358)- 400- 959-440
Email: hello@chefetsommelier.fi
Open Tue-Sat from 6 pm
ESPLANADE PARK
, Restarant Kappeli patio. Click to enlarge: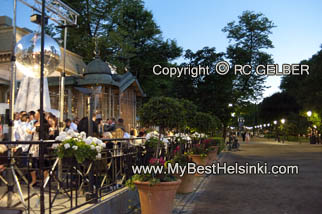 Restaurant Kappeli & patio, midnight early July in Helsinki.
More about Restaurant
Kappeli on restaurant page 2.
RESTAURANT FARANG
Southeast-Asian inspired modern cuisine. Farang is the brainchild of two Chez Dominique alumni, Tomi Björck and Matti Wikberg, have worked abroad for years, Björck in London & Sydney (Longrain), and Wikberg in Thailand and Australia.
The pastry Chef Susanna Vuori has worked in Paris and in London. 
Farang opened its doors to a very happy public in August 2009 and immediately became one of the favorite restaurants in Helsinki to many a food loving Helsinki resident.
Farang was voted number 1 on the "50 best restaurants in Finland, 2011" - list. Not too shabby!

Address: Ainonkatu 3, 00100 Helsinki
Phone: (358)- (0)9 454 4212
Email: info@farang.fi

RESTAURANT GAIJIN
This is the second "Asian" influenced restaurant by (Tomi Björck & Matti Wikberg) the owners of the super popular Farang, above.
Where Farang serves food inspired by Southeast, Gaijin's cuisine is inspired by Japanese, Korean & Northern Chinese cooking, preparing (and combining) the traditional foods of these countries with a modern twist.
The immense popularity of both these restaurants shows that there is a market for high quality "ethnic" & fusion cuisine from all over the world, and maybe right now especially cuisine from all over Asia.
Address: Bulevardi 6, 00120 Helsinki
Phone: (358)- (0)9) 698 0101
Email: info at gaijin.fi
Gaijin on fb
At the same street address, from the same owners: BOULEVARD SOCIAL
Address: Bulevardi 6, 00120 Helsinki
Phone: (358)- 10 322 9387
Email: info@boulevardsocial.fi
Boulevard Social on fb
Popular place with the cuisine inspired by flavors, scents and colors from Morocco, Lebanon, Tunisia, Greece, etc.
RESTAURANT NUEVO
a popular spot, was our "best bang for the buck" restaurant in Helsinki, in 2003. The location, in a historically preserved alley in the heart of the "Empire Centre", between the dome and the Market Square, is great, especially if you sit on their sidewalk terrace, enjoying the historic ambiance, facing the Dome or the harbor. Wow.
The food was surprisingly good and the service fun and friendly. Based on our experiences there in 2002, we ate at Nuevo 3 times on our eleven day trip in 2003. We particularly enjoyed their gazpacho and their whitefish. Our dinner guests told us that the meat dishes were quite tasty.
The wine list actually has some decent affordable choices, not so common in Helsinki. We had a very nice Rioja, Fuedo Crianza, for less than 28 Euros. Nuevo imports its espresso from Spain, and for our taste, it was the best coffee in Helsinki. Recent visit; still good.
Nuevo is one of the few restaurants that are open Sundays, a day when staff has to be paid double in Finland. second link
Our local agent visited Nuevo, in spring 2010 and found the food mostly quite goodand the service competent and considerate. All in all, the dinner was delightful: Review of Restaurant Nuevo in Finnish & English
Address:Sofiankatu 4, 00170 Helsinki
Phone:(358)- (0)9 6128 5900

Click to enlarge. Sofia Street & Helsinki Dome.
The patios of Restaurant Nuevo & Café Sofia: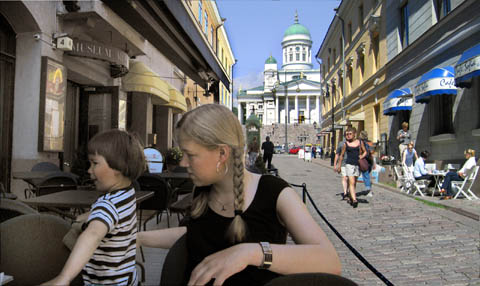 RESTAURANT TOCA
Address: Unioninkatu 18 00130 Helsinki
Phone: (358) (0)44 59 222 22
Email: toca@toca.fi
"Italian, Finnish and global tastes."
Review, in Finnish, giving 5 stars to Toca.
July 2010, old location view from inside Cafe Strindberg onto the restaurant's patio and over Esplanade Park, in the center of Helsinki.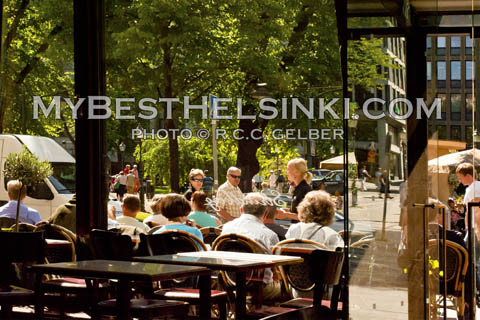 STRINDBERG
is two different restaurants. Downstairs, Cafe Strindberg offers sandwiches, salads, pastries and coffee (espresso, cappuccino, latte etc.). They also serve wine and beer. You take a tray, and move down the line picking up the stuff you want and you pay at the end.

In the summer, you can sit outside and enjoy the Esplanade park and some great people-watching.

Upstairs, Restaurant Strindberg serves pretty good fare at both lunch and dinner. Window seats overlook the Esplanade park. Strindberg has a lounge, with comfortable sofas and chairs, good for late night drinks and conversation, if you do not mind the smoke. You can click here for a second link

Address: Pohjoisesplanadi 33, 00100 Helsinki
Phone: (358)- (0)9 6128 6900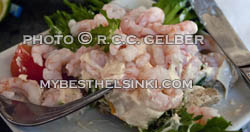 Delicious Shrimp Sandwich at Cafe Strindberg.
KATAJANOKAN KASINO
a favorite of ours for many years- is located on Katajanokka, a bit of a walk from the market square, behind the Uspenski Cathedral.
The restaurant is in a mansion-like building, on it's own lot by the sea. The main dining room on the ground floor is grand in an old style.

Upstairs there are smaller rooms for private meetings and dinners and there is also a big banquet room for larger parties. The restaurant also has a terrace facing the bay, and, a few steps down, summer outdoor seating in the garden, by the water. The garden is wonderful for dining or drinks

We have had both dinner and lunch at the "Kasino" on several occasions over the years, both indoors and in the garden, usually in a group of four plus a baby. The reception and the service have been warm and friendly. The quality and consistency of the food is quite high. They have also been very gracious about substituting items on the menu or mixing items from different dishes on the menu.

One evening we went there and the restaurant was closed due to a private reception. Nevertheless, they accommodated us by placing us in a private dining room upstairs. These are nice people who run a great restaurant with delicious food and friendlier service than most restaurants in Helsinki.

Addition in July, 2002:
This time we dined here twice. On our first evening in Helsinki, it was just the two of us. We were so impressed that we decided to return in a bigger group. Everyone in our group of 6 adults (and a child) was blown away by how good the food was. Even the desserts were wonderful. So good, that we were "teasing" each other about who had the better choice.

Again, the service was warm, natural and filled with of good natured humor.

We wanted to go back for a third time, but they were hosting a couple of weddings that night. We are not surprised: it is a beautiful place to have a wedding.

P.S. Ask the waitress to tell you about the friendly house ghost. Recent visit: Still delicious.

ALEXANDER NEVSKI is gone. Too bad; it was our favorite Russian restaurant in Helsinki. We have noticed that many people are still looking for the restaurant.
RESTAURANT SASSO
with Italian fare, now proudly stands in "Nevski's" space, which has been thoroughly transformed into quite the opposite of what the "old" space used to look like, with heavy draperies, etc. Now, a modern interior, mostly in light earth tones, has emerged. We have yet to sample the place ourselves, but have heard pretty positive reviews.
Address: Pohjoisesplanadi 17, Helsinki 17
Phone: (358)- (0)9 1345 6240
E-mail: sasso at palacekamp.fi
Contact & map. Second link
Downstairs, replacing Restaurant Havis Amanda, is 
FISHMARKET
a seafood restaurant, just like it's predecessor. Also this space has been renovated and updated. We have heard very favorable reviews and opinions about the Fish Market.
We dined here in June or July, 2010. The food was ok, not great. Especially my plate represeneted the old, heavy and buttery way of Finnish cooking, not the Nordic Cuisine concept, that I so like. They did, however have some nice finds, for reasonable prices on their wine list. The service was friendly.
Address: Pohjoisesplanadi 17, Helsinki 17
Phone: (358)- (0) 96128 5250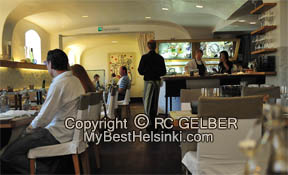 Restaurant Fish Market, 2010. Click to enlarge.
ATELJÈ FINNE Is located in a space that used to house a sculptor's, Gunnar Finne's, studio. This is a popular restaurant, that cranks out consistently good food, made out of fresh ingredients. Friendly service, nice atmosphere, fresh fish. Popular for brunch, too. ATELJÈ FINNE is owned by the same talented people, who own Restaurant Kuurna.
Address: Arkadiankatu 14, 00100 Helsinki
Phone: (358)- (0)9- 493 110
PASTIS "Best French restaurant in Finland"
Pastis on fb
Address: Pieni Roobertinkatu 2, 00130 Helsinki Phone: (358)- (0)10 29 28 990
E-mail: varaukset@pastis.fi (for reservations)

From the owners of Muru, a French style Bistro, quite popular from the start. Article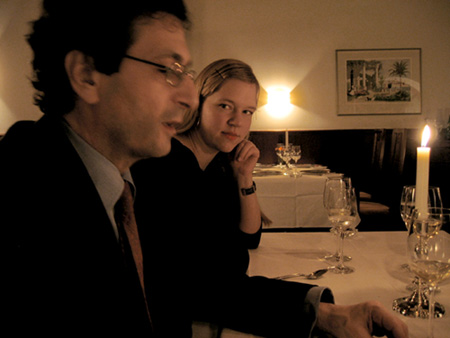 Family dining at the now closed George. Click photo to enlarge.
A21 DINING Restaurant & Bar
A21 on facebook

Specialty: Dinner & Drinks
"... a restaurant that offers a new twist to the dining experience."
Classical dishes & tastes from around the world, with a Nordic Twist. Freshness & high quality is essential, as is a beutiful presentation. Minicocktails (4cl) have been designed to be paired with & complement the dishes.

Address: Kalevankatu 17, 00100 Helsinki
Phone: (358)-40 1711117
E-mail: dining(at)a21.fi

A21 COCTAIL LOUNGE | A21 on fb
"The philosophy of A21 underlines the culinary art of making cocktails."
A21 has been awarded by "The Worlds Best Bars", as the "Experts Choice". It also has a cocktail school.
Reservations recommended during weekends.

Address: Annankatu 21, 00100 Helsinki, Finland
Phone: (358)- 40 0211921
E-mail: lounge(at)a21.fi
Be sure to check out our
SUMMER RESTAURANT - LIST that features restaurants on different islands, just a few minute boat ride from the center area.
Below, just one of these "hidden" Helsinki gems that are worth a visit: Klippan island & Klippan restaurant & bar.
CLICK ON PHOTO for place names and a much larger view: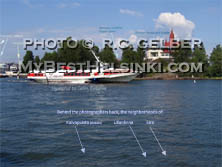 We have not had a chance to visit these two restaurants, but our agents in Helsinki have enjoyed their dinners at both establishments:

SPIS is a small restaurant that seats 18 people.
The cuisine is based on the "freshest nordic ingredients". The menu is largely vegetable based, with at least one fish or meat main course.
The wine list focuses on artesanal wines. There are also a selection of fine nordic brews.
Address: Kasarmikatu 26, 00130 Helsinki
Phone: (358)- (0)45 - 305 - 1211
E-mail: info@spis.fi
Spis on fb

RESTAURANT GASTONE
Address: Korkeavuorenkatu 45, Helsinki
Phone: (358) -(0)9- 666 116
E-mail: ristorante at gastone.fi
Later visits to Gastone produced less enthusiastic reviews.
General about Finnish Cuisine and Helsinki Restaurants:
For years, Finland has been one of our top destinations partly because of its excellent and constantly evolving culinary scene, that encompasses not just the Scandinavian way of cooking, but also integrates international flavors and styles.
Every time we travel back to Helsinki, there is something new and exciting going on in the restaurant scene. The culinary know-how and the skill level of many of these chefs is truly impressive and often delights even the most demanding and spoiled patrons.
We live in New York and are spoiled rotten by the abundance of high culinary skills, both in "fancy" and casual restaurants here, but we still find dining in Helsinki restaurants quite enjoyable. And just like everywhere else, of course there are also bad restaurants in Helsinki. But to hear someone bash the culinary skills of all Finnish chefs, based on one or two bad experiences (or based on ignorance), is just plainly silly.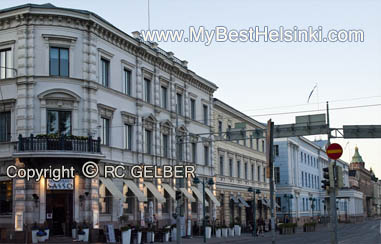 Restaurant Sasso on North Esplanade by the Market Square in Helsinki
Remember, in Finland the dates
are marked: day /mo / year.
General about wine pricing in Helsinki Restaurants:
Be aware that Finnish restaurants generally appear to mark-up their wines to a higher degree than comparable American restaurants.
Also good to know: A smoking ban in Finnish restaurants took effect June 1st, 2007.
Website feedback: So many restaurants, so little time! Unfortunately we never have the time
to explore all the splendid restaurants we would like to while in Helsinki. We would love to hear from fellow Helsinki travelers & foodies. Please let us know WHICH RESTAURANTS YOU HAVE ENJOYED IN HELSINKI